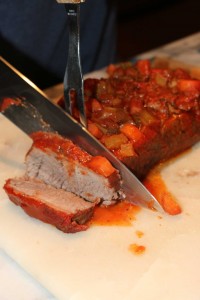 Brisket is one of my favorite meals to braise in the oven, cooking slowly for several hours.  It is a great Sunday meal or perfect to simmer in the oven for a few hours if you have errands to run or a longer cardio session during the week.  Brisket is generally a tough cut of meat but with a little love can turn into a delicious, tender dinner.  Cooking the meat at a lower temperature in a dutch oven (my favorite cooking pan), allows the meat to slowly break down the connective tissues as it braises in liquid.
I like to cook the meat about 1 hour per pound, basting every 90 minutes to an hour.  If the meat is not cooked long enough, the brisket will remain tough.  When using tomato juices in the liquid, make sure to layer the top of the pan with parch paper and then tin foil as the acidity of tomatoes can cause a reaction with aluminum foil, causing small pinholes in the foil.
INGREDIENTS
1 (3-5-pound) brisket of beef

Can also substitute chuck roast

salt, pepper seasoning to taste
1 garlic clove chopped or 1 tsp garlic seasoning
1 tsp sweet paprika
2 tablespoons grapeseed oil (higher smoke point than olive oil)
onion, celery, carrot mix peeled and diced
1 (

26.46 Ounce)

Pomi chopped tomatoes
2 cups red wine (medium body) (I used Sleeping Bear Red)

This wine is a Burgundy-style blend of five different grapes, light-to-medium bodied with definite tart cherry and red-currant flavors.

1 cup chicken broth
2 bay leaves
1-2 sprigs fresh thyme, chopped
1-2 sprigs fresh rosemary, chopped
6 to 8 carrots, peeled and sliced on the diagonal
6-8 medley of small yellow, red, and purple potatoes, quartered

 Remove the meat from the fridge and let come to room temperature, about 30 minutes.
Preheat the oven to 325°F. Sprinkle salt pepper to taste over the brisket and rub with the garlic and paprika.
Heat the grapeseed oil until it shimmers, then sear the brisket on each side (2-4 minuter per side) until browned.  Remove brisket from the pan and set aside.
Add onions to pan and cook until softened and begin to caramelize.
Add the brisket back to the pan, fat side up (so fat can seep into meat while it cooks).
Add the chopped thyme, rosemary and bay leaves.
Pour tomatoes, broth and wine into the pan and bring to just a boil.
Cover (don't forget the aluminum and parch paper!) and transfer to oven; bake in the oven (1 hour per pound), basting hourly with the pan juices.
With an hour remaining add the carrots and potatoes, continue cooking until both meat and vegetables are fork tender.
To test if the meat is done, place a fork in the brisket and see if it slowly pulls away from the meat when removed, or "falling off the fork".
Remove the meat from heat, place on a cutting board,  venting tin foil over it for 10 minutes to cool.
Place the pot back on simmer burner to keep vegetables and sauce warm.
Cut the brisket against the grain, serve with sauce and vegetables.