Quick healthy alternative to rice pilaf!  I added peas but other vegetables such as zucchini, carrots, etc could also be added!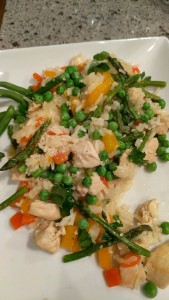 Ingredients:
Butter or oil to coat pan
1 LB boneless, skinless chicken breasts
1 onion, chopped
1-2 red, yellow or orange bell peppers, seeded and chopped
2-3 cloves garlic, chopped/minced
salt and pepper to taste
3/4 cup uncooked long grain rice (such as jasmine or basmati)
2 cups chicken stock (reduced sodium)
2 bouillon cubes or 2 tsp better than bouillon
1 bunch of asparagus, (about 12 spears) cut into 1 inch pieces
parsley (for garnish)
Melt the butter or add oil to coat the pan, such as a dutch oven over medium heat.  Add the chicken (sprinkle some pepper) and cook for 5 minutes, or until the chicken is no longer pink.
Add the onion, bell pepper and garlic, season with pepper and salt. Cook for another 3-4 minutes or until the onion is soft.
Add the rice, chicken stock and chicken bouillon cubes, stir and cover the pot, cooking for 10 minutes.  (I turned the heat to medium low, but recommend keeping it at medium to absorb more of the liquid).
Add the asparagus and cook until all the liquid is absorbed, at least 5 minutes.
Remove from heat and add parsley.  I also added Parmesan cheese and peas!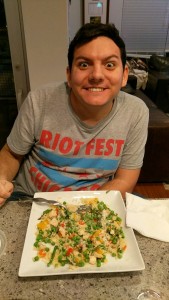 **Adapted from "30-Minute One-Pot Meals"