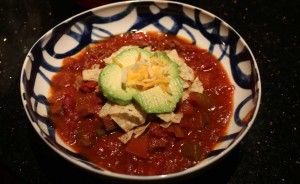 One of our favorite weekend traditions is visiting Smoque, a BBQ restaurant that has amazing Brisket Chili.  Since we had about one pound left of brisket, I decided to try my own homemade recipe.  I used a receipe from the Food Network as a guide, and wanted to minimize the additional ingredients I needed to purchase at the store.  I adjusted the recipe considerably, (see below) and will continue to tweak the spices.  Although I was looking for a recipe with a "kick" next time I will test out a recipe with more oregano, basil, onion powder, thyme and less cumin and cayenne.  I also may test cocoa powder and omit cinnamon until the chili has begun to simmer for at least an hour.  I also enjoyed the coffee and will experiment with different types to see what provides the best flavor.  For this version I used the daily brew of allegro coffee from Whole Foods.
If you want to scale back the kick, try cutting the first four spices below in half, and additional seasoning as the chili continues to simmer.  For those that love spicy chili with a heavy cumin taste, this recipe is for you!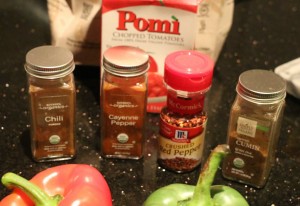 Ingredients
1 pound beef brisket, cut in 1-inch cubes
2 Tbsp olive oil
1/2 medium sweet or yellow onion, chopped
2 large garlic cloves, minced
1 Tbsp chili powder
1/2 Tbsp red pepper flakes, crushed
1/2 Tbsp cayenne pepper, or to taste
1 Tbsp ground cumin
1 green pepper, seeded and diced
1/4 tsp paprkia
1/4 tsp cinnamon
2 bay leaves
6 small roma tomatoes, chopped with their liquid
12 ounces Pomi diced tomatoes
2 (5.5 oz.) cans tomato juice
Salt and freshly ground black pepper
1/4 cup strong coffee
1 (15-ounce) cans kidney beans (strain half the juice)
1 Tbsp chopped basil leaves
Optional:
Cheddar jack cheeseSliced avocado
Tortilla chips
Diced tomato
Thin Spaghetti
Before You Begin Cooking:
Recommend chopping tomatoes and green pepper in advance, set aside.   Combine chili powder, pepper flakes, cayenne pepper, cumin, paprika and cinnamon in a small bowl; set aside.   Remove brisket from fridge and cut any fat from the meat; cut into inch size pieces.
Add olive oil to a dutch oven, heat on medium heat until oil shimmers.  Add onion and garlic and cook until translucent, about 3-4 minutes.   Add the dry spices and saute for 1 minute, until the onions are evenly coated.
Add the green peppers, bay leaf, tomatoes with their juice, the reserved meat, 1 tsp of salt  pepper (or to taste) and bring to a boil.   Reduce the heat, cover the pot with a tight fitting lid and simmer for 1 1/2 hours, stirring occasionally. Taste and add additional seasoning taste.   Add the coffee, cover the pot and simmer for 30 more minutes.
Add the kidney beans and basil, and simmer for an additional 30 minutes. Transfer the chili to a large serving bowl and serve with your favorite toppings such as cheddar jack cheese, diced tomato (reserve an additional tomato to chop at the end), tortilla chips and avocado.   You can also serve with sour cream but recommend omitting this to cut calories.   For those from Cincinnati, you can also pour the chili over cooked, thin spaghetti.
My official taste tester liked the chili and went for seconds and even thirds, but recommends taking a PEPCID before chowing down on this meal due to the intensity of spices!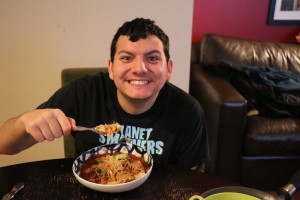 To see the original Food Network recipe, click here.