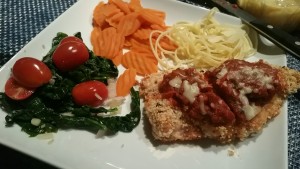 I love chicken parm, but have found it difficult to find a recipe that isn't loaded with calories.  I love this version because it still has the crunchy outside layer and still uses pasta and tomato sauce.  I also recommended the panko bread crumbus versus the regular and def add the fresh basil at the end!
I also reduce the amount of pasta I eat and make extra vegetables.  I have found sauted spinach goes great with this recipe!
One aspect that is extremely important for this receipe is to buy chicken cutlets and ensure they are 1/2 (no more than an inch) thick.  It allows you to cook the chicken more quickly without burning the breadcrumbs.  Also, make sure to add the tomato sauce at the end so the chicken breasts do not come out soggy.  Enjoy!
INGREDIENTS
Cooking spray
1 egg
1/2 cup  panko bread crumbs
1/4 cup grated parmesan cheese, plus 4 teaspoons
1 tablespoon Italian seasoning
1 teaspoon red pepper flakes
2 chicken breasts cutlets
1/4 cup marinara sauce, either homemade or store-bought
Fresh basil, for garnish
DIRECTIONS
Preheat the oven to 400ºF and spray a glass or stone pan lightly with cooking spray.  (Don't recommend aluminum pan).
Set out 2 shallow bowls or plates. In 1 bowl, crack your egg and whisk well. In the second bowl, combine the panko breadcrumbs, 1/4 cup grated parmesan cheese, Italian seasoning, and red pepper flakes.
Dip 1 piece of chicken into the egg wash, then the panko breadcrumb mixture, and toss well to coat. Place the chicken on the prepared baking sheet and spray with pam for easily cleanup. Repeat with the remaining chicken cutlets.
Spray the breaded chicken lightly with cooking spray (or add a small pat of unsalted butter), and bake for 25 or 30 – 40 minutes, until coating is golden and the chicken breasts are just cooked through.
Remove from the oven and spoon out a tablespoon of marinara sauce over the top of each piece, then sprinkle a teaspoon of Parmesan on top of each piece. Place back in the oven for an additional 3 to 5 minutes, until the sauce is hot and cheese is bubbling.
Recipe adapted from: http://www.popsugar.com/fitness/Healthy-Chicken-Parmesan-35470755