The heat of the spices and the fresh coolness of the cherry tomatoes compliment each other really well in this dish.  Great for weeknights!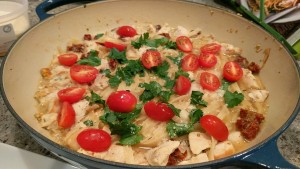 Ingredients:
Butter, Olive Oil or Grapeseed oil (to coat pan)
1 LB boneless, skinless chicken breasts, cut up into cubes
1 onion, chopped
3-5 cloves garlic, minced/chopped
1 tsp dried oregano
1/2 tsp crushed red pepper flakes
1 cup white wine
2 cups low sodium chicken stock
1 TBS hot sauce (or less based on preference)
2 TBS freshly squeezed lemon juice
12 0z uncooked linguine or fettuccine
6-12 cherry tomatoes, cut in half
1 TBS fresh parsley (for garnish)
1/4 cup (at least!) freshly grated Parmesan cheese
Melt the butter or pour 1 TBS oil to coat pan of a dutch oven or braising pan.  Add the chicken and cook until no longer pink, about 5 minutes.  (I had heat on medium- high, and turned down to medium for the next step).
Add the onion, garlic, oregano and red pepper flakes to the pot and cook for 5 more minutes, or until the onion softens and becomes translucent.  .
Add the wine and deglaze the pan for 1-2 minutes scraping any brown bits off the bottom.  Then add the chicken stock and lemon juice and pasta.  Cook, string occasionally, about 8 minutes or until pasta is el dente.
Remove from heat and add the tomatoes and parsley and cheese.
*** At the end I still had a bit of liquid in the pan, this did thicken as the dish sat on the counter and can be used as a sauce, or added to a container for leftovers when reheating.
**Adapted from "30-Minute One-Pot Meals"