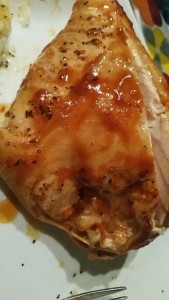 Have you ever cleaned out your pantry and realized you have a surplus of a few items?   This was the case for me this weekend as I realized I had 5 bottles of BBQ sauce in my cabinet.  Solution?  Juicy, oven baked chicken with roasted vegetables and baked potatoes.   I adapted this from the below recipe, but recommend longer cooking times and for those who love paprika, closer to 2 tsp for the marinade.  If you don't have fresh garlic on hand, you can use dry, minced garlic seasoning.  In addition, the sauce at the bottom of the dish can be used as a sauce to serve over the chicken for additional flavor.
I also recommend using the juice from half a lemon in the marinade, using a lemon squeezer.  Then use the remaining half of the lemon to squeeze over your choice of vegetables to roast in the oven along with olive oil (use sparingly), salt and pepper to taste.
Ingredients:
2-4, bone-in Chicken Breast Halves
3 tbsp olive oil (for 2 breasts recommend 1 tbsp)
1½ tsp smoked paprika
2 tbsp fresh lemon juice
3 cloves garlic, minced
½-3/4 tsp kosher salt
pepper to taste (course, ground black pepper is my favorite)
1-2 cups favorite prepared BBQ sauce
Instructions:
Combine olive oil, smoked paprika, lemon juice, and garlic in a small bowl.  Add salt and pepper to taste.
Place the chicken in a Ziploc bag and add the marinade.
Let chicken marinade for at least an hour, up to 24 in the fridge.
Preheat oven to 350 degrees
Remove chicken from bag and place in a shallow baking dish covered with aluminum foil for easier clean up.
Bake for 30-40 minutes, depending on size of chicken.
Remove chicken from oven and brush a layer of BBQ sauce on the chicken.
Return to the oven and repeat brushing with BBQ sauce every 10 minutes until the chicken is cooked through, about 20-30 minutes longer. Chicken is done when it reaches an internal temperature of 165 degrees F and juices run clear.
**Recipe adapted from:
www.heatherlikesfood.com/super-moist-oven-baked-bbq-chicken/#CIzovS6eX0sOWVsf.99