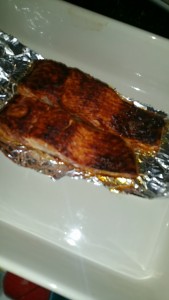 Let me start this post off by saying I am not by any means a fan of fish.  Until recently, I avoided any type of fish like the plague.  However, in an effort to incorporate healthier options into my diet, I started to learn more about specific fish, starting with salmon.  It took me a few recipes to find one that I really liked, but this by far is my favorite.  I also have started buying the Icelandic salmon at Whole Foods which has a more mild taste compared with the Atlantic Salmon.  They also more recently dropped the price to $12.99 pound.
First aspect I had to learn is how do I even buy/ask for salmon?  When I go to the counter, I have learned its better to have them cut the specific portion you want versus taking the pre-cut options.  The fish always seems more fresh when going this route.  Thus, I use the following steps:
Ask for (2) 4oz pieces of fish, with the skin removed.
I also specify when they weigh the fish, it will be 5oz with the skin
Then I ask for the fish to be similar in size and thickness to ensure they cook the same.  4oz is about 1/3 pound for comparison.  4oz is also the recommended serving size from my nutritionist.
Often the person working the counter will ask if there is a specific piece I want, I just request the non "pre-cut" options.  The lighter color versus deep read seems to be my preference as well.
I also only buy fish when I am going to use it that day to ensure it is as fresh as possible.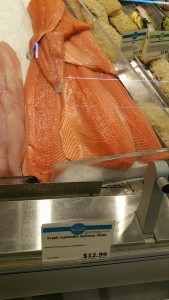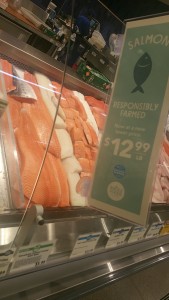 **Pre-cut options you see on far right, which tend to be the atlantic salmon options at Whole Foods and generally 6oz – 8oz.  All of the above Icelandic salmon look fresh and not too red in color for my preference.
Ingredients:
(2) 4oz pieces salmon, skin removed
Aluminum foil, to make clean up easier
1 large garlic cloves, minced (or used dried garlic)                                                       1 Tbsp ginger root, chopped (you can omit this)
3 Tbsp soy sauce or Worcestershire sauce (use up to 1/4 cup, which is 4 Tbsp)
1 Tbsp Chile sauce (I love the below brand!)
http://organicvillefoods.com/products/condiments/organic-chili-sauce/
1 lime, juiced (Start with 1/2 lime and add based on taste)
1 lime, zested (same lime as above, just zest the skin first)
1 Tbsp brown sugar
3 green onions, chopped (these are optional, but I really loved them!)
**I also sprinkle up to 1 tsp paprika on the salmon as part of the rub
Optional: Red peppers to place on top
**I generally serve this with either sweet potatoes and roasted broccoli or substitute potatoes for Couscous or rice.  I have also served with spinach cooked with chorizo and onions.  (I will add a link for this recipe too!)
Since this is a light meal, feel free to serve with a desert of fruit or add an extra vegetable.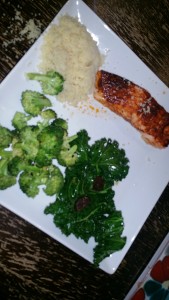 Directions:
Preheat oven to either 425 or turn broiler on your oven.
2. Place the salmon on aluminum foil in a shallow (oven proof) baking sheet.
3. In a small bowl, combine soy sauce, chile sauce, ginger (optional) and garlic.  Mix in lime juice, lime zest, and brown sugar.  Brush over both sides of salmon.  If needed, add more chile sauce to marinade.  To ensure a nice sear on the salmon, I do not cover with aluminum foil.  Only cover if you use a grill. Before putting into the oven, cut up the red peppers into strips and add on top of the salmon.
4. Bake either 425 for 20 minutes or broil for 10-13 minutes.  Salmon is done when it begins to flake on the sides.  Let sit for 2-3 minutes, serve and pour any extra juices from the foil on top of the fish.  Serve with rice and vegetables.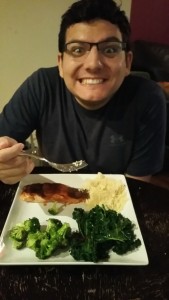 Danny taste tested and approved! 🙂
If I don't have all the ingredients on hand, I make sure I at least have chile sauce, paprika, worcestershire sauce, garlic, salt and pepper for a quick, 15 minute meal.