Quick and healthier version to fish sticks & fries!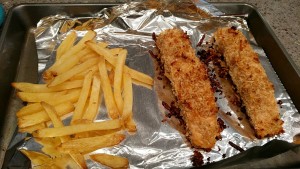 Ingredients:
1-4 cups frozen french fries
2-4 salmon fillets (3-4 oz each, skin removed)
1 TBS prepared horseradish
1 TBS grated Parmesan cheese
1 TBS Worcestershire sauce
1 tsp Dijon mustard
1/4 tsp (pinch) salt
1/2 cup panko bread crumbs
1 tsp thyme, rosemary or your favorite seasoning
cooking spray
Crispy Salmon
Preheat oven to 450. Arrange the fries in a single layer on a baking sheet. Bake on the lowest oven rack 18-20 minutes or until light golden brown.
While the fries are baking, place foil on a baking sheet and coat with cooking spray. (Don't skip this step or the breadcrumbs will stick!)
In a bowl, (shallow bowl is best) combine horseradish, cheese Worcestershire sauce, mustard and salt, then stir in breadcrumbs. To add additional flavor, add one of your favorite seasonings such as thyme and stir in the mixture.
Press the salmon pieces into the fillets and shake off extra breading. Lightly spray the tops of the breaded salmon with cooking spray.
Bake salmon in middle oven rack for 8-10 minutes or until it begins to flake easily with a fork. Serve with fries and a vegetable, such as Cauliflower and broccoli bake.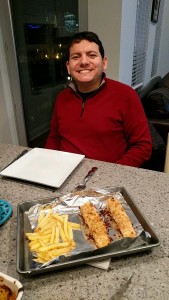 **Adapted from Taste of Home Cozy Fall Cooking, Magazine 2014