I discovered this recipe a few weeks ago from a new cookbook I bought at World Market.  That same week I also found tri color pearl couscous at Whole Foods and fell in love with this product!  The flavors blend really well and I don't normally cook with raisins but loved them in this recipe.  This is also a quickly prepared meal, great for weeknights or when you have little time for prep or cooking time.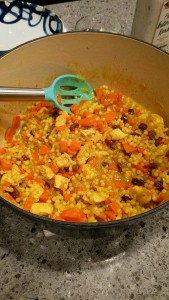 Ingredients:
1 TBS olive oil
2 boneless and skinless chicken breasts, chopped into cubes
1 small onion (sweet), chopped
4 cloves garlic, minced
1 medium carrot, chopped
1/4 cup golden raisins (feel free to increase to 1/2 cup)
1 tsp ground turmeric
1 tsp ground cumin
1 cup uncooked couscous
2 cups chicken stock
salt and pepper to taste
1 TBS freshly squeezed lemon juice
1 bay leaf
fresh chopped parsley (optional, garnish)
In a dutch oven, heat the olive oil over medium to high heat. Add the chicken, onion, garlic and carrot and golden raisins. Stir and let cook for about 8 minutes, or until the chicken is no longer pink.
Stir in the turmeric and cumin.  Add the couscous and chicken stock and stir. Season with salt and pepper, add the lemon juice and bay leaf and bring to a boil. Lower the heat to medium and let simmer, stirring occasionally, until the couscous is cooked through, 5-10 minutes. (I think I did 12 minutes just to be safe!)
Remove bay leaf before serving and garnish with parsley.
**Adapted from 30 minute One Pot Meals cookbook