I have a similar recipe for veal paprikash posted on my blog but I love this version more as it calls for fresh tomatoes and a dash of hot spice pleasantly overpowered by sweet Hungarian paprika.  There are also less steps to this recipe and once the onion and pepper are chopped, most of the cooking time is spent letting the meat tenderize via a simmer. If you have leftover chopped or diced tomatoes from another recipe, feel free to add those as well!
Cuts of veal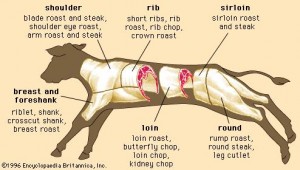 veal for stew are cut into one or two inch squares.
The pieces are usually cut from the shoulder, shank, or round, as these are the best cuts for braising or simmering meat for an extended time.
Meat cut from the front of the shoulder contains connective tissue that breaks down when braised and makes for a great sauce.
Generally, this is also the most cost effective cut of veal
Do not use meat made for Scaloppine as its very thin and expensive as the fibers are removed.
Veal Paprikas
Ingredients:
1-3 lbs veal stew
2 TBS butter
2 TBS vegetable oil
1 yellow onion, chopped
1 heaping TBS sweet Hungarian paprika
Pinch cayenne pepper
1 small red pepper, finely chopped
salt and pepper to taste
1 TBS all-purpose flour
1 cup regular sour cream (do NOT use low fat or fat free)
Egg noodles to serve with veal
Cut the veal into 1-inch pieces. Rinse meat well in a colander and shake off excess water, but do not pat dry. (You want some extra moisture). Melt the butter in the oil in a dutch oven over medium – high heat, add the onion and cook, stirring, until softened, about 3 minutes. Sprinkle the paprika and cayenne over the onion, then add veal to the pot; stir until meat is coated with spices. Reduce heat, cover, and simmer until meat gives off a fair amount of liquid, about 10 minutes. Stir in the bell pepper, tomato and a generous pinch of salt, cover again and cook until the meat is tender, about 45 minutes.
In a small bowl, mix the flour with 2 TBS water, then stir in the sour cream; stir mixture into pot. Cook, covered, for 10 minutes more. Remove from heat and let stand 10 minutes to settle flavors. Stir well before serving. (Don't be tempted to skip this step!)
**Recipe adapted from Braises and Stews Cookbook
MLA – "veal: major cuts". Illustration. Encyclopædia Britannica Online. Web. 27 Feb. 2017. <https://www.britannica.com/topic/veal?oasmId=2913