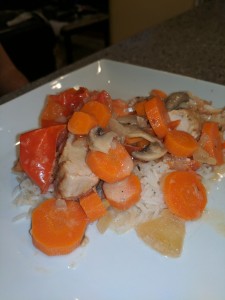 Ingredients:
grapeseed oil
boneless chicken breast
flour
1 shallot or 1/2 sweet onion
1-2 garlic cloves
2 tomatoes (squeeze seeds out)
 1 bag carrots
 1/4 cup brandy
 1 cup wine
1/4 cup whipping cream
1/2 TBS tarragon
1/2 TBS Italian seasoning
Wash off chicken and dust with salt and pepper and flour, shaking off any excess flour.   Heat olive oil in frying pan and sautée chicken on both sides until cooked through (brown).
While the chicken is cooking, cut up tomatoes and squeeze out seed sacs, set aside in a bowl.  Cut up carrots, onion and mince garlic and add to the skillet, cook for 3-5 minutes until onion is soft. (You may want to pre-boil carrots for 3-4 minutes to make them softer).
Heat up brandy, light, and pour over chicken (recommend removing skillet/pan from heat when you pour the brandy over the chicken). Let brandy cook for 1-2 minutes, then return to heat and add wine and cut up tomatoes.
Stir in tarragon and italian seasoning, cover and simmer for 30 minutes on low.   If serving immediately add cream to pan and stir a little and then serve over rice.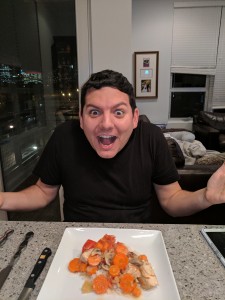 To serve the next day, remove from heat before adding the whipping cream and let cool, uncovered 10-15 minutes.  Cover and refrigerate until the next day.  To reheat, make sure to use a pan/dutch oven at room temperature, cut up the chicken and heat on medium for 5 minutes or until mixture begins to boil.  Cover, and reduce heat to low and simmer for five more minutes.  Add the whipping cream, stir, and serve over rice.